Downtown Comes Uptown: A Gathering of the Tribes at Word Up
Veronica Santiago Liu is the general coordinator of Word Up Community Bookshop, a collectively managed volunteer-run bookshop and arts space in the Washington Heights neighborhood of New York City. Her writing, comics, photography, and silkscreen prints have been published in Broken Pencil, Quick Fiction, We'll Never Have Paris, and other journals and zines.
When Word Up Community Bookshop first opened as a temporary "pop-up" shop in June 2011 in the upper Manhattan neighborhood of Washington Heights, the longtime New Yorkers who'd wander into the storefront would take one look at our makeshift space—our donated home furniture only hinting at a retail environment, our scattershot collection of small press books and broadly encompassing events calendar (indeed, the whole ad hoc system created by neighborhood volunteers) —and say, "This feels just like the Lower East Side once did."
We were frequently compared to a few community art spaces in particular, spaces that made people feel at home while representing a greater artistic community. A Gathering of the Tribes—the longtime gallery/salon and home of Steve Cannon—was one such downtown space. Thus, we were ecstatic to host a crew of esteemed poets from A Gathering of the Tribes on April 25 with support from the Readings & Workshops Program at Poets & Writers. Though many have sorely missed Cannon's magical living room on East Third Street since the eviction by a new owner in 2014, the creative people who gave the place life are still doing their thing all over the city: creating and sharing adventurous, irreverent, intimate poetry and stories.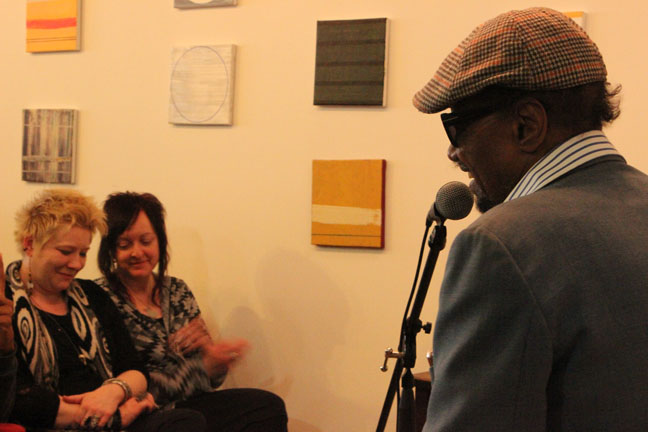 The presenting poets were excited to reunite; indeed, coorganizer and Washington Heights-based poetSheila Maldonado marveled that everyone was actually on time for the reading. A mix of uptowners and downtowners representing all the colors of the people of New York City sat in the audience, or peered out from behind bookcases where they shopped, transfixed by the words. Through it all, the evening's energy was palpable—I mean, really, literally everyone cheered at every welcome and introduction.
The legendary Steve Cannon—who Poonam Srivastava later called a testament of the life of the city—kicked off the night's tellings, with stories of getting to the event that very evening, and stories about each of the poets present whose work he'd published. Everyone was unsure of when he'd started a poem or had slipped back into a story of now, highly amused all the same.
Reading next was Ron Kolm, poet, bookseller, Unbearables member, and author of Welcome to the Barbecue  (Low-Tech Press, 1990), Rank Cologne (P.O.N. Press, 1991), Divine Comedy (Fly By Night Press, 2013), and Suburban Ambush (Autonomedia, 2014). Sheila Maldonado whose poetry collection one-bedroom solo was published by Fly by Night Press in 2011, read from her book as well as new work.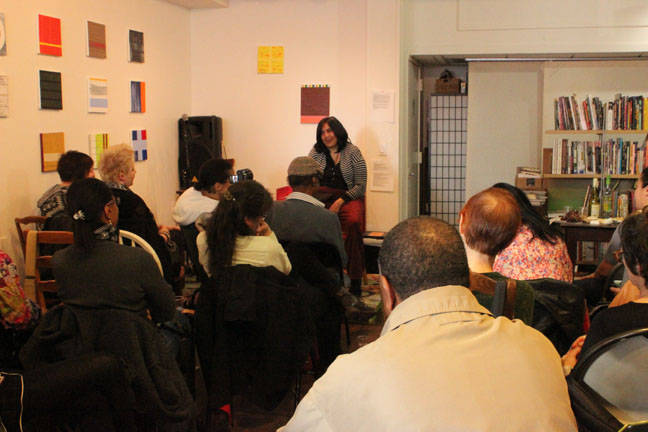 Poonam Srivastava, whose book is forthcoming this summer from Fly by Night Press, told a not-quite allegory about driving in the city and in the refrain of the evening, asked for just a little more lesbianism, please. After a short intermission, Frank Perez, author of the chapbooksRhythm of Life and The Short Cut, took the mic, followed by Chavisa Woods, the award-winning author ofThe Albino Album (Seven Stories Press, 2013) and Love Does Not Make Me Gentle or Kind(Autonomedia, 2012). Mariposa Fernandez, author of Born Bronxeña: Poems on Identity, Love & Survival (Bronxeña Books, 2001), read next and Melanie Maria Goodreaux warmly closed out the evening with a heartfelt reading!
Photos: (top) Steve Cannon. (bottom) Poonam Srivastava. Photo Credit: Veronica Liu
Support for Readings & Workshops in New York City is provided, in part, by public funds from theNew York State Council on the Arts, and the New York City Department of Cultural Affairs, with additional support from the Louis & Anne Abrons Foundation, the Axe-Houghton, the A.K. Starr Charitable Trust, and Friends of Poets & Writers.